FEATURES & BENEFITS
Accelerate your business performance
Maximize efficiency
Automate cash application to reduce errors, resolve exceptions and disputes quickly, and reduce paper.
Lift revenue
Improve DSO with enhanced receivables management. Reduce unauthorized discounts and free up constrained credit lines via faster application of cash.
Reduce risk
Identify at-risk receivables faster and enhance credit risk management with more accurate and up-to-date information.
Gain the strategic advantage
Speed up integration of newly acquired entities. Centralize receivables and treat them as an alternative funding source.
SOLUTION DETAILS
Accelerate your business performance.
Managing receivables is an essential way to impact liquidity. Whether you process consumer-to-business or business-to-business payments, receivables management solutions from Deluxe accelerate working capital and reduce exceptions with straight-through processing across all payment channels to reduce DSO, shrink labor costs, and lift revenue. Financial institutions can attract and retain more commercial customers to grow fee revenue by providing value-added tools and solutions that today's business customers critically need.
Within the three realms of receivables management, our services focus on three distinct performance areas: acceleration, visualization, and collaboration. We work to accelerate your internal processes to help your institution function more efficiently in the face of both internal and client-facing needs. We work to improve capture efficiencies across all channels, including lockbox, remote deposit capture, paperless, and branches. The result of these tactics is to expedite access to cash and remittance information for those who need it most. With our acceleration services, you'll find RDC and payment aggregation, remittance and intelligent matching, exceptions management, and dispute case resolution services.
Next, to assist your team with visibility, we offer research and analytics as well as process control services to help you turn receivables into business insights. The aim of these pursuits is to allow your financial institution to maintain process control as well as near-real-time visibility into your branch's receivables performance, incoming cash flows, and team metrics.
Lastly, through collaborative initiatives, your branch will benefit from our industry vertical systems and automated ERP posting. By aligning corporate ERP data and connectivity, your branch will benefit from faster payment acknowledgment.
Learn more about Receivables Management
eBook: Mastering Integrated Receivables: The Climb to Best in Class
Integrated Receivables for Financial Institutions
On-Demand Webinar: Becoming Undisruptable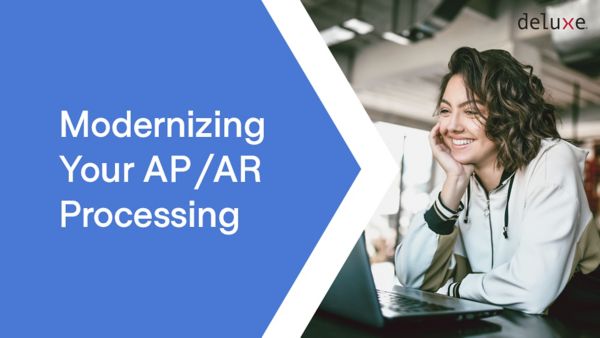 How does your payments automation stack up?
Find out how accounts payable and accounts receivable automation has been impacted by the current environment, pain points and other drivers for Modernizing your AP/AR Processing.
Receivables Management Solutions
Accelerate performance with Receivables Management solutions today.
We can't wait to help
Please enter your information below and the team at Deluxe will be in touch to get started.
Questions about receivables management?
EXPLORE MORE PRODUCTS
Solutions to help your new business succeed